Product Description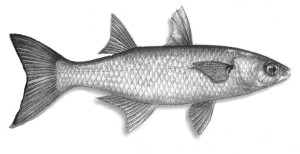 Silver Mullet (Mugil gyrans)
AKA: mullet, or striped, flathead, grey, or jumping mullet
The mullets are a family and order of ray-finned fish found worldwide in coastal temperate and tropical waters, and in some species in fresh water. Mullet swim in large schools and are commonly seen jumping out of the water.  Mullet spend most of their lives in estuaries feeding on detritus and move freely between fresh and saltwater, moving offshore to spawn.
Silver mullet are smaller – ranging from finger mullet to larger 'specialty' mullet prepared for trolling – such as wedged, deboned and/or split-tailed. Brackish water areas come alive with schooling finger mullet as hot summer days settle in.  This creates a feeding bonanza for many fish species like sea trout, redfish, stripers, and flounder. Specially prepared silver mullet are trolled for billfish.
Uses: Whole as trolling, pitch bait or surf bait. Chunked or cut pieces for bottom bait. Crab bait.