Product Description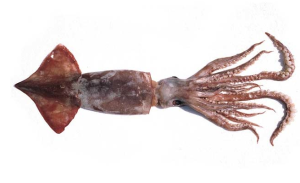 BAITMASTERS Squid Bits Supreme are conveniently sized pieces of the wings of the giant squid Dosidicus gigas. These processed squid wing pieces, concentrate the natural squid attractant properties while toughening the bait pieces. All natural.
DOES NOT REQUIRE REFRIGERATION
An easy to use, very clean product – great for a fishing trip with children. Can be used in both saltwater and freshwater, in whole pieces or cut smaller depending upon the size of your target. A great bait to use to tip sabikis!
Uses: Squid is one of the most versatile baits to use. Anything that will bite a hook can be caught with squid. Squid can be used cut, whole and may be used as a terminal bait or trolled.
Does NOT freeze solid, ready to use. Natural preservative added.
Humboldt squid (Dosidicus gigas)
The Humboldt squid, is a large, predatory squid living in the waters of the Humboldt Current in the eastern Pacific Ocean. They can travel at a speed of 15 mph and are extremely aggressive and fast growing. Our Squid Bits are produced from the "Red Devil" squid.