Product Description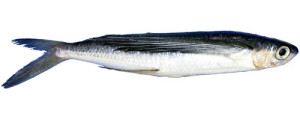 Flying Fish (Exocoetida)
AKA: flying fish, flyers
Flying fish live in all of the oceans, particularly in tropical and warm subtropical waters.
The most striking feature of the flying fish is their pectoral fins, which are unusually large, and enable the fish to take short gliding flights through air, above the surface of the water, in order to escape from predators. Anyone who has boated beyond the sight of land have seen these interesting fish popping out of the water like birds suddenly scared by your oncoming vessel, utilizing it's only defense system but when they come gliding out from one danger expose themselves to another, the frigate birds.
If you see a Sargassum weed line and flying fish soaring out of the water, you know dolphin fish are under the weeds.
Uses: Flying fish are great as pitch bait for sight fishing Dolphin. Wahoo, tuna and swordfish also dine on flying fish. Flying fish also make great bait for kite fishing.  A fast trolling bait.  Professional tournament anglers use flying fish as their secret weapon (we just gave away their secret!)