Clams
Showing all 1 results
CLAM BIO
SCIENTIFIC NAME: Spisula solidissima
AKA: bar clam, hen clam, skimmer, sea clam
PROMINENT FEATURES:
Surf clams have been used for food as well as bait for at least a millennium. Atlantic surf clams are distributed along the western North Atlantic Ocean from the southern Gulf of St. Lawrence (Canada) to Cape Hatteras, North Carolina.
FISHY FACTS:
A single female clam may release up to 60 million eggs in a season, of which only a small number will become fertilized and grow to become adult clams.
USES:
Clams are one of the key baits on the eastern shore of the United States. Excellent bait for surf fishing. Best used to catch striped bass, flounder, trout, sheepshead, tautog, pompano, redfish, drum.
PACKAGING FORMS:
8 oz pouch, 2 – 4 shucked clams per pouch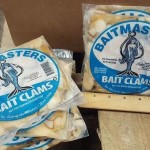 1148 – Clams, 8oz BAITMASTERS
• Brand: BAITMASTERS
• Size: 8oz bag
• Case Size: 48 – 8oz bag
• Producer: Aylesworth's Fish & Bait
• UPC: 7 10707 01100 0