Ribbonfish
Showing all 1 results
RIBBONFISH BIO
SCIENTIFIC NAME: Trichiurus lepturus
AKA: silver eel, beltfish, cutlassfish, hairtail
PROMINENT FEATURES:
Ribbonfish are long and flat, with shiny silver sides, bright yellow eyes and small but very sharp teeth. They are found throughout the tropical and temperate waters of the world. It is a fish, not an eel. BAITMASTERS ribbonfish are caught only by hook and line, brined and handled carefully to minimize scarring.
USES:
Great trolling bait for large king mackerel, blacktip sharks, chicken dolphin, cobia, wahoo, and sailfish. Use cut pieces when chumming by hand. Also makes a good cut bait for snappers.
FISHY FACTS:
Largehead hairtails can grow to 2.34 m (7.7 ft) in length; the largest recorded weight is 5 kg (11 lb) and the oldest recorded age is 15 years. In many areas of the world, it is a major commercial species, they are fished for food and eaten grilled or raw, as sashimi.
PACKAGING FORMS:
1 or 2 fish per vacuum bag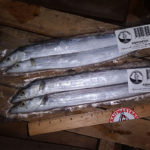 7502 – Ribbonfish, BAITMASTERS
• Brand: BAITMASTERS
• Size: 18″ – 24″
• Case Size: 24 – 2 pk
• Producer: Aylesworth's Fish & Bait
• UPC: 7 10707 07501 9