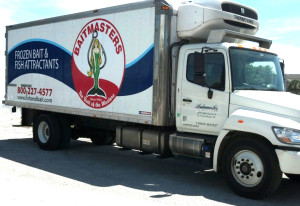 We cover the entire state of Florida, Georgia and South Carolina on regularly scheduled weekly delivery routes using our own vehicles and our own drivers – an integral part of the exemplary customer service offered by the Aylesworth's FISH & BAIT team.
Our fleet of late model delivery trucks are custom built to our specifications.
We specify Morgan truck bodies, the most energy efficient insulated bodies available on the market today.
Our truck Thermo King refrigeration units are oversized to assure that your products arrive in the best condition possible – even on the hottest days that a Florida summer can provide.
Our trucks follow a strict maintenance regimen to keep delivery delays to a minimum.
For those customers not on our regular delivery area, we use common carrier to deliver our product. We use only the most reliable, efficient transport companies with whom we have negotiated the best rates available in the industry.
If the occasion arises that you require a small special delivery, we also have the ability to ship product via UPS or Fedex in coolers with dry ice.
Aylesworth's FISH & BAIT is committed to providing the best delivery service for your frozen bait purchase – in the industry!