Fish Tales is YOUR bragging section. Send your favorite fish photos to info@fishandbait.com with a brief story about where and how the fish were caught and what type of BAITMASTERS brand frozen bait was used. Kids or Pro's… we all like to share our fish tales!
Include all the details PLEASE…
Photo | Angler's Name | Fish Species | Weight or Length
Type of BAITMASTERS Frozen Bait | Location | Tackle Shop or Guides Name
---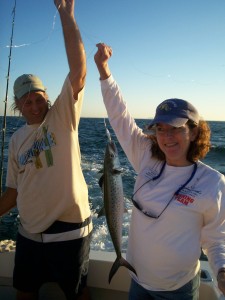 Karen caught a nice Spanish Mackerel fishing offshore near St.Petersburg. They anchored over a rocky bottom, put out 2 BAITMASTERS ready to use dispenser Chum and let the current do its trick. In a few minutes, the mackerel were following up the chum line within casting range. The crew was casting BAITMASTERS frozen shrimp with a light wire leader. BAITMASTERS Pilchards work wonders too! Use a small circle hook with 12″ of light wire leader and the smallest black swivel you can find and NO WEIGHT. This technique allows the bait to drift down slowly with the chum line.
---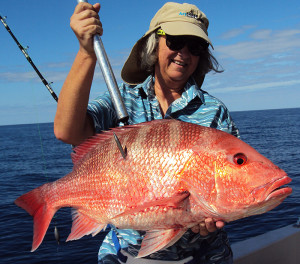 Debby Wilson caught a really nice 25lb American Red Snapper on a BAITMASTERS Cigar Minnow in 95′ of water over an artificial reef off of Mexico Beach in Florida's Panhandle aboard Capt Tom Adams – Mexico Beach Charters.
---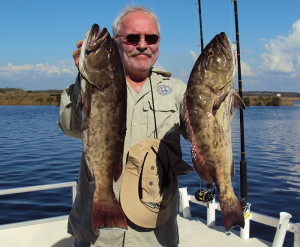 Blue Pelican Marina
2 nice Gags in 10′ of water! Anchoring on a rock pile, letting the BAITMASTERS Tournament Chum do it's thing, we dropped back BAITMASTERS Squid and Sardines to get the bite. Here's a tip – hook the sardine through the bottom of the chin and out the top of the nose and cut the tail off. This lets the bait hang in the current without spinning and releasing the scent of the Sardine.  John Wilson – Hernando Beach